The rise in downscale living within the urban and suburban living spaces continues as socioeconomic and environmental factors such as rising energy cost, soaring rents and space scarcity persist.
Ideally practical and beneficial for all age groups, this lifestyle is mostly popular among Gen Z and Millennials, mainly individuals who have recently entered the workforce and Boomers, who are ready to downsize from their single-family homes. In this edition, I wanted to show some of our latest and ongoing collections that are suitable for apartment/condo living, without compromising on style or overspending your customers' budget.
LIVING ROOM
Small spaces need less furnishings, the key is to create a space that's comfortable and free of clutter. Focus on furnishing that's tailored to the personality and comfort of the residents.
Measuring 24.50"w by 25.00"d by 28.50"h, the Bradley chairs fit a good size apartment living room without compromising on style. Its Mid-Century inspired design is further decorated with charming silhouette and diamond quilted upholstery in mono-tone colors that's on-trend, but also provides a classic look that will last for many years.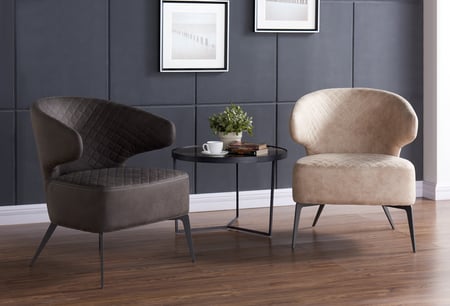 Bradley KD Fabric Accent Chair in Moonstone & Saltbox Hide Taupe
For the hipsters who want to achieve an ultra modern ambiance, incorporate this space-age inspired swivel chair in Walnut veneer frame. Measuring 27.50"w by 25"d by 27"h, this tiny chair adds the perfect accent for an urban apartment.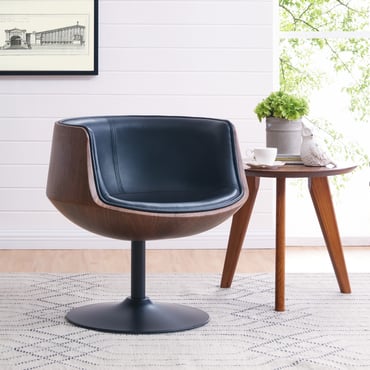 Compact living requires multipurpose furnishings for a maximum space saving impact. These pop-up coffee table provide extra storage compartments for clutters.
Neville or Rydell Lift-Top Coffee Tables in Ash Gray/Walnut
Dining Room
Maximize small spaces while incorporating shapes that are visually pleasing and proportionate to a dining area's square footage. Our best trick is to use a round dining table, as it's functional and provides the right amount of seating for the small-space dwellers.
We suggest some round table styles like the latest Allie table in striking striped Ebony veneer, measured at 39.50"w 39.50"d 30.00"h, provides a smaller option and can seat 4 comfortably.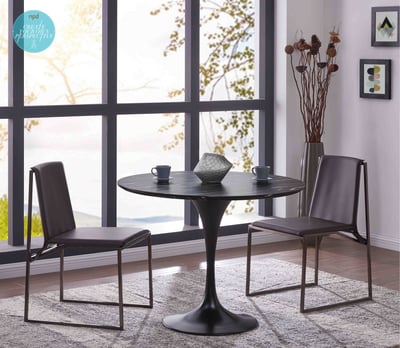 Allie 39" Dining Table in Striped Ebony Wood Veneer & Frances PVC Chairs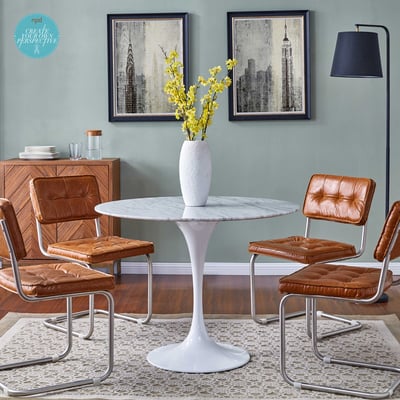 Allie 39" Round Marble Dining Table & Bauer Cantilever Chairs
Bedroom
Besides keeping the bedroom wall colors to lighter tones, prioritize on storage space to keep clutter to the bare minimum. To make the most of every square inch, shop for bedroom furniture that provides extra storage or minimalist lines that are big on style and function.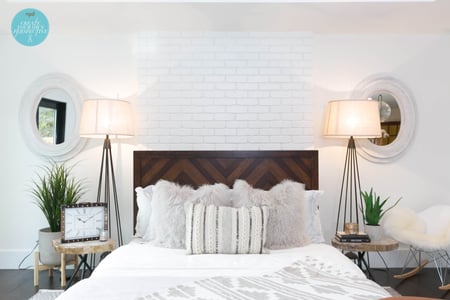 Piero Chevron Pattern in Queen Bed Set
The latest Sorrento Queen bed frame includes an optional removable under-bed storage unit for items like linens or clothing. (sold separately).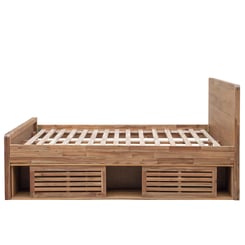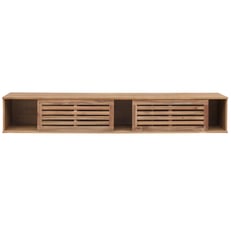 Sorrento Queen Bed & Removeable Storage w/ 2 Doors
For a night stand, skip bulky size items and look for clean lines furnishings with drawers or extra shelves that can be arranged or mounted. This Blanc end table is small, measured at 17"w x 16.50"d x 26"h, yet it's multi-purposeful as the tempered glass shelf on the top is the perfect place for small accessories; a single drawer and second shelf on the bottom provide storage space for remotes and magazines.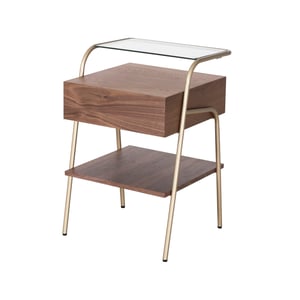 Blanc End Table in Gold Legs and Walnut Veneer
For more fun ideas organizing small-home spaces, check out our these occasional tables for additional ideas. https://www.newpacificdirect.com/occasional-tables