Winter Las Vegas Market is shaping up for another exciting year in home furnishings' styles, colors and products. Based on the latest First Look outlook for 2018, we are in for a year of passionate Romantics & Realists style perspective; suggesting a fusion of the practical and impractical imaginations for a compelling representation in home fashion.
Here's a sneak peek of our upcoming collections highlighting Las Vegas Market style guidance:
1. Passionately Dramatic
Inspired by 19th century European art movements, vibrant color palettes are paired with muted pastels while juxtaposed in silver and pale gold metallic highlights. This trend conveys a romanticism look updated from traditional neo-classical forms.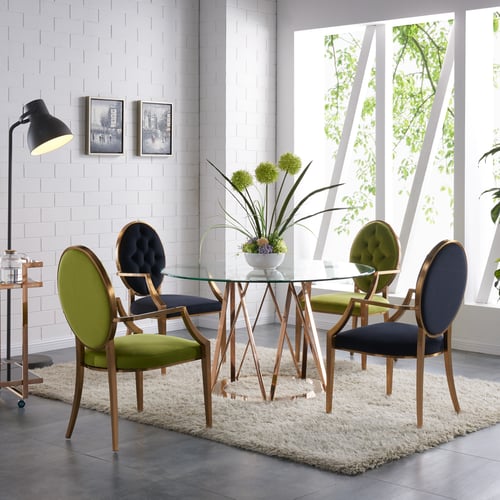 Fit for the royals, these neoclassical style chairs are updated with modern details highlighting its chic button tufted rounded back defined by sloping arms and tubular legs, adorned in painted brushed gold stainless steel frame.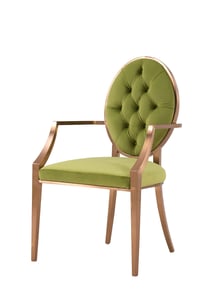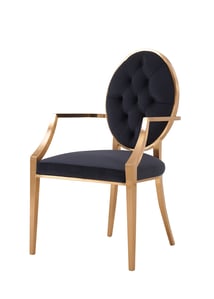 Tiara Fabric Tufted Arm Chairs in Royal Olive and Royal Black
2. Soft around the Edges
Imbuing a sense of calm utilizing smoky hues, while circular shapes evoke harmony and femininity, the latest look incorporates imaginative ideas with intriguing angles for a look that's refreshingly modern and opulent.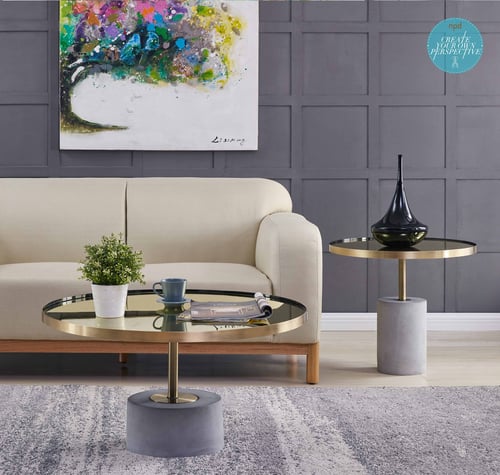 Concrete base for a heightened + avant-garde effects, combined with chrome-steel brass frame with sphere shape mirror glass top for a sleek and ultra-modern arrangement.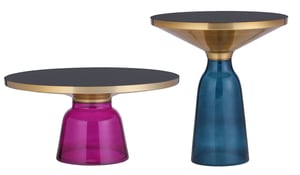 Perla KD Round Tables with Glass Top in Fuchia Pink & Real Teal
3. Mix Metallic Finishes
A symbol for luxury and wealth, but also excess and greed; silver and brass metal accents add that extra spark effects in any room. This style direction continues into 2018 as designers are incorporating glitz to spice up spaces from kitchen counters to the more traditional living rooms decor.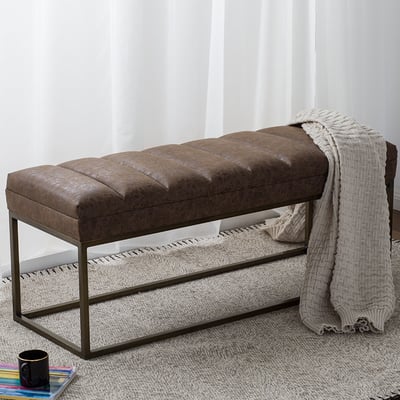 Hollywood Glam Minimalist (Darius) bench boasts refined elegance with clean lines, tight channel tufted faux leather upholstery embellished on chic gold brushed frame.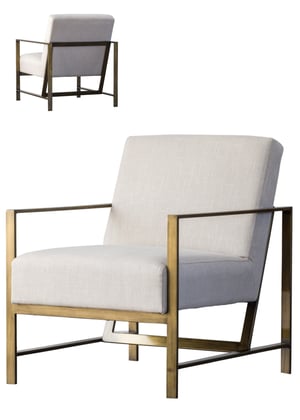 Francis Fabric Arm Chair with Gold Brush frame in Shortbread
During Las Vegas Market, we are giving away Darius bench (shown above) with any purchase, MSRP $375. Additionally, with $2K minimum purchase, we are also giving away a gorgeous Skylar accent chair with MSRP $765. One Free item per customer account.
Contact us for more info or to set up an appointment at #LVMKT --> 510.818.9388
Visit NPD Furniture at the Las Vegas Market in Building A, 6th Floor, #654
---
---