As the crisp embrace of cooler weather envelops us once again, a sense of comfort and coziness settles in. For us, the transition into the Fall and Winter Season signifies a time to cultivate joy and a profound sense of well-being within our abodes.
Here are some themes that emerged as we curated the latest collection:

Striking Geometric Forms
Our inspiration takes us literally into the clouds as soft, sculptural contours take forms into the latest collection in bubbly, textural appeal for a dreamy effect. Our Japandi theme collection, available in various formats, purposefully connects the enriching virtues of a healthy lifestyle with design aesthetics that seamlessly infuse a tranquil aura.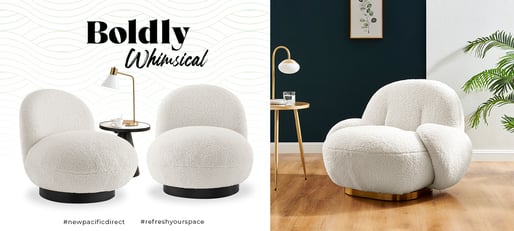 Zolia and Claudia Swivel Accent Chairs
Eco-Friendly Fabrics
In a conscientious stride towards reducing our ecological footprint, select styles proudly feature 100% recycled PES fabric—an embodiment of our aim to repurpose, where one meter of fabric finds its origin in the conversion of 28 discarded plastic bottles. The Wendy storage bench shown here is an example utilizing the recycled polyester fabric. Its basketweave pattern also presents a smooth finish to the style.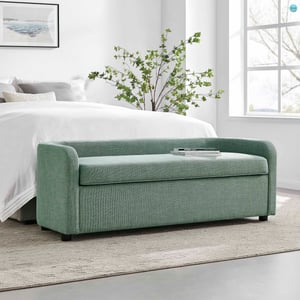 Meridian Sea Green
Velvet
This season, our velvet chairs and benches incorporate the OEKO-TEX Standard 100 textiles, serving as sentinels of health by upholding rigorous standards against harmful substances, thereby safeguarding the well-being of our customers. To point out to the specifics, our latest Althea accent chairs is fully covered in this textile standard and in the smooth, velvety texture.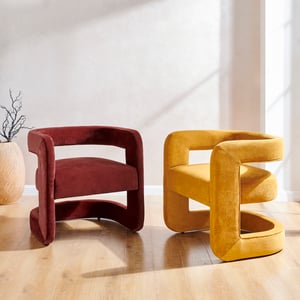 Althea Velvet Chairs
Live-edge Styles
Artisanship is sacred, with dedicated effort and innate talent, skilled craftsmen carefully choose reclaimed teak materials to create beautiful accents. Each piece they meticulously craft becomes an artistic accent that breathes life into interiors.
Our latest endeavor harnesses the inherent textures of teak, resulting in a kaleidoscope of tactile wonders—from polished elegance to distressed allure—each creation an embodiment of uniqueness.
We are extending our Promo for this collection until October 23, contact our sales@newpacificdirect.com for any information. We hope that the upcoming holiday season is productive and at the same time, joyous. Stay warm and stay connected!