Velvet is associated with many eras and styles … think of the luxurious bed curtains that ensconced royalty during the Renaissance. Or, '60s-era velvet jackets worn by Jimi Hendrix and Mick Jagger. There's even the decadent dessert, Red Velvet cake.
Fast forward to the start of 2020, and velvet, with its soft feel and luxurious vibe, is a popular choice in home furnishings. Sofas, loveseats, accent chairs, ottomans, benches, and decorative pillows wear velvet well, and for good reasons.
Want to add an accent color to your home's interiors? Look no further than an upholstered chair in velvet to enliven your living room, family room, home office, guest bedroom, or entryway.
Looking for an easy way to add character and charm to bedrooms, spacious walk-in closets, or luxurious bathrooms? An embellished ottoman or an end-of-bed bench done up in velvet instantly elevate the space.
Perhaps you want an easy refresh for the dining area? Velvet dining chairs, bar stools and counter stools delight family and friends.
Colors that mimic precious jewels and sparkly crystals are popular choices for velvet this season. Hues such as Jade Green, Sapphire Blue, and Blush Pink are especially timely because they complement both cool and warm gray hues. Marlene tufted accent chair in navy blue velvet illustrates how "bold and bright" can complement subdued neutrals.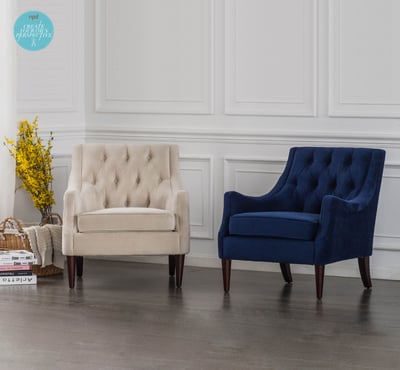 Marlene KD Velvet Fabric Tufted Accent Chair
Decorative ottomans and go-anywhere benches are versatile, for sure — in velvet, they're downright captivating. Designs paired with gold finishes, treated to quilted effects, or embellished with fringe are stand-out options.
Consider Casper round ottoman. Offered in either Dark Gray or Serene Blush Pink velvet, this petite, lightweight seat features a quilted effect that evokes a designer handbag. The bonus? Remove Casper's top to reveal a storage compartment. Likewise, Suri round ottoman with an on-trend fringe detail, offers the same storage feature, a bonafide benefit for city dwellers.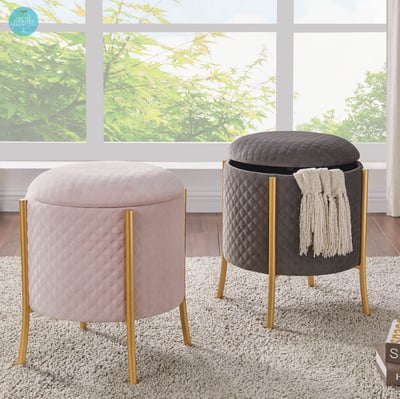 Casper Quilted Velvet Fabric Round Storage Ottoman
Easy-to-maintain velvet even earns a place in the kitchen or dining room, namely on bar stools, counter stools and dining chairs. In these applications, neutrals and pastels are poised to be top performers.
Delphine KD Velvet Fabric Swivel Counter Stools in Gray or Teal
Want to see more furniture options? explore www.newpacificdirect.com
Share your NPD lifestyle images on #newpacificdirect or #refreshyourspace