Home office furniture that's sleek, modern and styled to complement a room's existing decor is a popular choice for many homeowners. This includes at-home executives; urbanites making the most of their small living spaces; and passionate home decorators.
Because the home office is inseparably linked to technology — think smaller, faster, more capable devices that outperform and ultimately replace clunky personal computers — a traditional furniture silhouette is re-emerging as the front runner for a home's many work (and homework!) areas.
Enter the writing table, a novelty accent item once used for letter-writing and light bookkeeping. These decorative accent pieces inspire solutions for today's paperless and wireless environments. Shown below is the Milano 2-drawers desk with gorgeous Walnut veneer finish.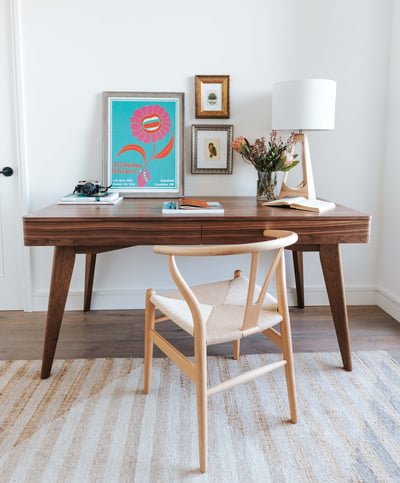 Milano Desk 2-Drawers in Walnut Veneer
Open, airy computer tables have become the go-to for homeowners who make the most of their mobile devices and cloud computing. Indeed, many of the nearly 5 million employees in the United States who telecommute no longer require executive suites packed with clunky file cabinets and excessive drawer storage. Instead, a generous work surface — some with built-in device recharging capabilities and height adjustability — address today's remote working needs.
Check out an example of our Zander modern and casual design desk below.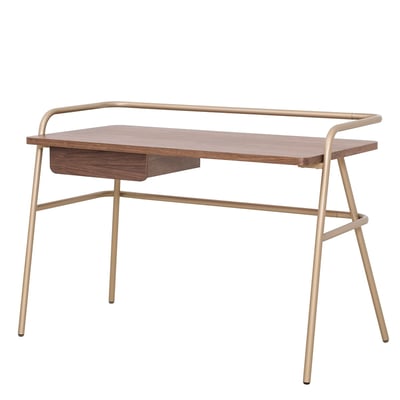 Zander KD Desk in Champagne Gold Legs
In addition to streamlined work tables, many consumers opt for shelving units and freestanding bookcases as desk mates. In addition to providing storage space, these furniture profiles create ample space for decorative display. This is especially prized by homeowners who set up office in a public-facing room, such as the family room, a great room or the kitchen area. See an example of such design with Reeve desk below.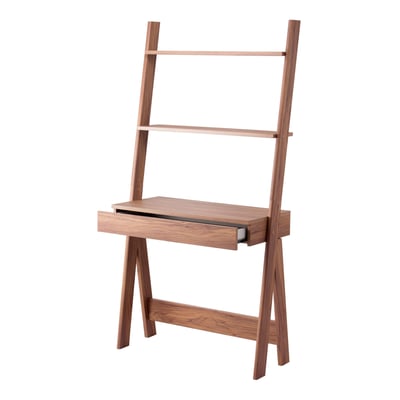 Reeve 32" KD Stair Desk in Walnut Veneer
When it comes to city living, computer tables are prized in homes where space is at a premium. Laptop tables can be put to service as a vanity table, a crafts table, or even a drinks table. Simply tuck the tablet, laptop and/or mobile phone into the computer table's drawers before guests arrive.
Just as writing tables complement a room's decor — think silver screen beauty penning a love letter in her chic penthouses — today's computer tables are styled to either blend with or stand out in a room's existing decor. On-trend metal finishes and wood veneers; unexpected mixes of materials; and unique leg designs make it so.
Similar rules hold for task chairs. Swivel and adjustable height mechanisms are performance essentials, but it's the on-trend fabric or leather cover that keeps the home office looking as it should — not like a cubicle, but rather a comfortable space wherein one balances work and home.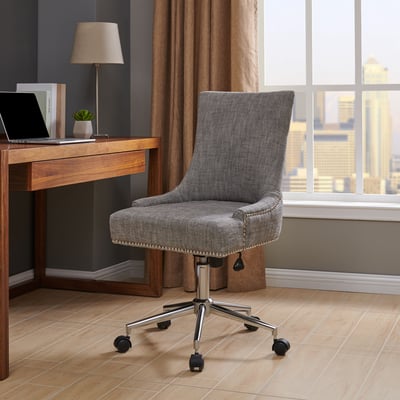 Charlotte Fabric Office Chair, Wolf
See more of our Home Office Furniture, go to https://www.newpacificdirect.com/home-office