Nowadays, many homeowners invest more and more in their outdoor living spaces, creating an extension of their homes beyond their patio doors. Often, these chic outdoor living areas have sun loungers, and other inviting pieces that make their outdoor living spaces more inviting.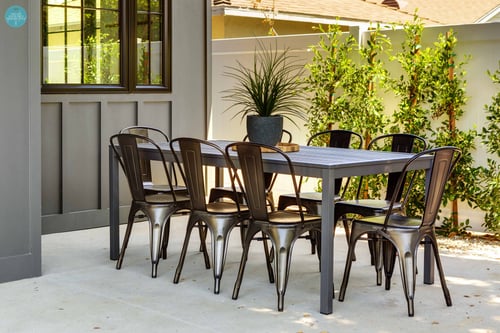 Semi Outdoor Furniture (Covered Patio)
The more sophisticated outdoor living spaces also come with a residential misting system that can help make the space cozier. The good news? Creating the perfect outdoor living area is way easier than you think. Below are some of the tips you can follow to create the consummate outdoor living space:
1. Make sure you define the living space.
Purchasing outdoor furniture and putting it just about anywhere in your yard will not give your space a great flow. It will also make your entire yard appear disjointed. Start creating your ideal outdoor living space by defining some areas in your yard.
For instance, you can place shrubs or potted plants around your patio and have them act like "walls," or you can also divide parts of your yard. It is also a good idea to place charming furniture on the deck or around a fire pit.
2. Create a seamless flow.
If you want to enhance your outdoor space's sense of rhythm and flow, start by connecting different areas. For example, you can have various planting schemes for each zone—wildflowers and wild grasses for your dining space, scented herbs near your furniture to help you relax, and all-white flowers to match your Scandi-Style seating area.
3. Extend your interior decor.
You can extend the indoor living space by dressing the outdoor living area with fetching furniture choices and charming accessories like cushions, woven rugs, and armchairs.
To pick the apt outdoor furniture, consider what you will use it for—dining, entertaining, or relaxing. As a general rule of thumb, opt for outdoor furniture that is practical and comfortable for outdoor use and should be washable and weather-resistant.
Investing in small movable tables for snacks and cocktails would also be a good idea. Pick patterns and colors that match your interiors so you can bring some of the feels outdoors.
4. Consider adding a water feature.
If you want to add a relaxing and refreshing addition to your space, you can never go wrong with a water feature. You don't necessarily have to invest in an elaborate waterfall or fountain. Even a small water feature can already make a world of difference.
The sound and sight of flowing water will not only make your outdoor space more appealing, it also comes with benefits that are hard to miss, such as enhanced relaxation and even lower blood pressure.
If you are lucky enough to live near a natural water source like an ocean, lake, or babbling brook, consider designing an outdoor area that takes full advantage of what nature has to offer.
5. Add a fireplace or fire pit.
If entertaining outdoors is your thing, a fireplace or a fire pit with comfortable seating would be a great idea. Enjoy great evenings with family and friends being warmed by your fire pit. Investing in blankets and marshmallow-roasting supplies would also be a great idea.
6. Illuminate the space with an outdoor lighting scheme.
One inexpensive way to add magic to your outdoor space would be using festoon lights. They can also be left out all year-round, which saves you time and effort. On the other hand, path markers or solar stake lights can be a practical solution if you want to light your garden without any visible wires or plugs.
If you want your outdoor area to look and feel cozy and dramatic, consider uplighting your trees. It can also provide an ambient level of light. However, it is essential not to overdo the lights though. Too much of anything can make your outdoor space overblown and tacky.
7. Create an outdoor dining area.
Want to host al fresco meals? Start by making space for an outdoor dining area. When figuring out where to place your outdoor dining area, ask yourself a few basic questions.
For instance:
Would you prefer hosting in the mornings or evenings?
Would you like to dine in the shade?
What is the proximity of the dining area to your house?
It would be an excellent idea to place your dining terrace at the end of your garden rather than having it near your house. This will allow people to walk a few steps to get there. With the right lighting and accessories, you can make the walk both an event and an experience they won't forget. Click here for more information on indoor furniture and semi-outdoor styles.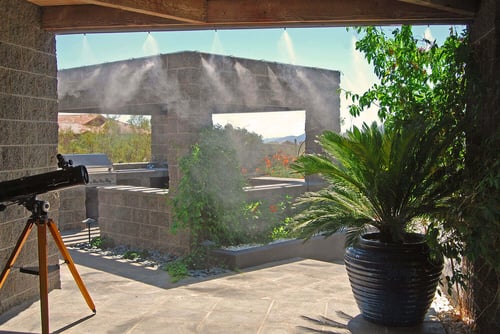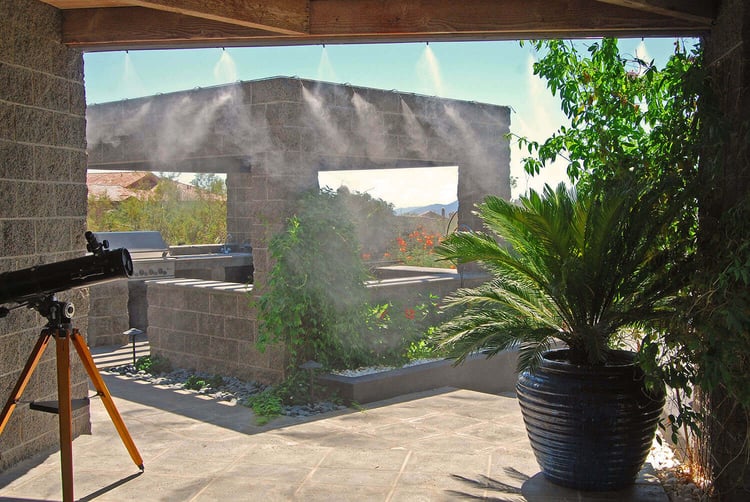 Residential Mist in an Outdoor Dining
8. Create a focal point.
Adding tables would be a good place to start. Rather than the typical dining tables, opt for side tables that can be used to display your collections of planters. Another fabulous sculptural element you can use would be a tree.
Trees with seasonality and multi-stem forms like crab apple, Amelanchier species, and hawthorn would be great. A fireplace or fire pit would also make a great focal point.
9. Final Thoughts
When designing your outdoor living space, it is crucial to keep its primary purpose in mind. Are you creating it to relax? Or would you like it to be the primary place where you can host events and gatherings? Regardless of what you have in mind, the bottom line is your outdoor space should perfectly match how you want to spend your time outdoors.