For many people, outdoor space doubles as a storage area or somewhere to put trash before taking it out. However, your small apartment balcony can be much more.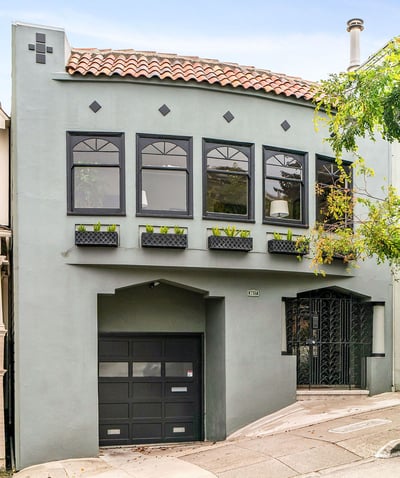 No matter the style or size, you can make it an outdoor haven with the right know-how. Whether you live in an apartment in New York City or a rental in San Francisco, read on to learn how to transform your small outdoor space, backed by expert tips.
1. Determine how you want to use the space
Before deciding on any style, furniture, or color scheme, figure out how you want to use your balcony. If you have pets, take them into consideration. "With the right planning," says Ben from Weekend Walls, "you can turn your small patio into your personal sanctuary. Incorporate elements that will allow you to transform and customize the space, such as removable tiles and plants." At this stage, anything is possible.
Here are a few questions to ask yourself before starting on your project:
What is your budget and timeline?

What's the weather like in your area?

Is your deck covered?

How big is your deck?

Are you looking for a private space?

Is there room for furniture?

Do you want to use it as a space for parties?

Are you looking for a small outdoor garden?

Do you have pets? How do you want to accommodate them?

Do you want something low or high maintenance?
Once you answer these questions, you're ready to start working toward your perfect small apartment balcony.
2. Clean your deck
Now that you've sorted out the basics, it's time to scrub your deck thoroughly. Benjamin Nguyen from Full Color Cleaners suggests removing everything from your deck and wearing non-slip shoes to avoid the risk of falling. "Clean apartment balconies help eliminate the risk of slipping and falling," he says. "Organic growth, such as algae and mildew, can make the surface slippery. Additionally, properly pressure washing the balcony can instantly beautify the atmosphere and make the balcony surfaces look like new."
You should generally clean your balcony twice a year with a power washer, but make sure to go the extra mile before redecorating. To help get you started, we asked experts for their pressure washing advice.
"When cleaning your patio, decide between pressure washing and soft washing. Pressure washing uses hot, high-pressured water that's best for hard, durable surfaces, while soft washing uses less pressure, lower heat, and a customized cleaning solution." - Steven Stout from A+ Soft Wash & Pressure Washing
"When designing your small apartment balcony, start by power washing your patio. You can add all of the furniture and design elements you want, but unless the patio is clean and sanitized, everything will have much less impact." - Rob Greenblatt, COO of Clearly Amazing
"Clean your small apartment balcony every six months. It's best to use a power washer, but you can do a thorough soft wash as well." - Michael Zittel from Dirt Killer
"To pressure wash your home, use a low-pressure setting, starting from at least a foot away and moving closer to avoid damaging the surface. If your balcony floor is made of stone, brick, or is cracked, direct the pressure washer's stream between any of the gaps." - Kaitlyn Hinderliter from Powerwash.com
Before pressure washing yourself, consider hiring a professional with training, certification, licenses, and insurance. "While power washing is super fun and satisfying, it can cause some serious damage if you aren't careful," says Kaitlin Black, Owner of East Coast Powerwashing.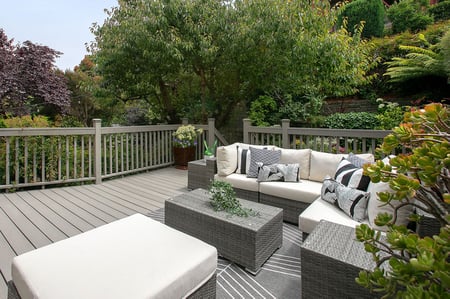 3. Choose a style
With a spotless clean balcony in hand, you're ready to decide on a design style. You can't go wrong here – just choose something you love. Here are a few popular options to choose from:
Minimalist

Contemporary

Modern

Bohemian

Traditional

Rustic

Coastal

Feng Shui

Eclectic

Nature
For a cohesive and put-together look, "keep your color schemes consistent inside and outside your home," says Randy from Super Area Rugs. "For example, if your living room features warm colors, your small balcony should be an extension of these colors."
While you can mirror the styles exactly, try expanding on your interior's style to keep your deck vibrant and fun.
4. Separate your space
The higher-level planning is complete, so it's time to get down to the nitty-gritty. Separating your space is a great way to maximize the area and bring style and functionality to even the smallest balconies. There are a few ways to do this, including smart use of furniture, plant walls, and privacy screens.
Additionally, if your deck overlooks gorgeous views, "capitalize on that by creating a dedicated breakfast nook, complete with a bar and coffee table," says Daniele Bywater from Bywater Design. "If you're looking for luxury, opt for a solid rosewood design on a steel frame – these pieces can make any occasion special."
Creating different zones can be challenging if you have a small deck. Consider adding a few plant pots on one end and a chair on the other. For larger patios, use sectional furniture, trellises, a barbecue, or other big items to separate your dining, lounge, and plant areas. If you love entertaining, "outdoor-proof refrigerators are perfect for apartment owners with small balconies," says Dena Krebs from 3Gorillas.com. "Their sleek design allows you to take the party outdoors and keep your beverages cool."
If you like to work from home, Tyler Benner and Katy Bowman from Venn Design suggests a sit/stand outdoor workspace for flexibility and fun. "Consider a secondary or tertiary workspace on your balcony that provides an opportunity for either sitting or standing," they say. "Be sure to rotate through your workstation postures during the day, slowly moving away from over-comfortable chairs."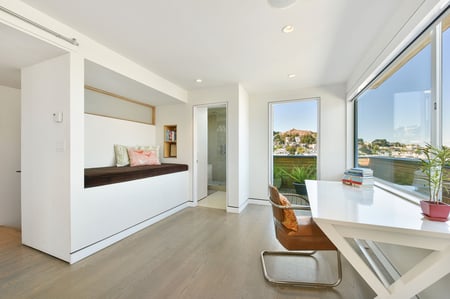 5. Consider new flooring for your balcony
Unless you're in a new apartment, your deck is likely old or bland. Adding new flooring to your balcony can make a huge difference. "You can easily turn a small balcony into an oasis," says Marie from Shine Rugs. "Try using a false wooden deck with a rug to achieve a relaxing, beautiful effect."
The most renter-friendly option is to use interlocking deck tiles. They snap together on top of the original decking, making for a simple upgrade perfect for any space and design.
Alternatively, outdoor rugs are an even easier solution. You can opt for a large rug that covers your entire deck or a smaller one to help divide your space. Marc Smith from Cyrus Artisan Rugs suggests using a simple rug for a big effect. "Adding a simple outdoor runner rug to your space helps incorporate your chairs, cushions, and throw pillows. You can also spice it up by hanging planters on your railings or walls to make things look and feel more natural."
6. Create privacy on your balcony
Having privacy in a shared living space like an apartment is difficult, but there are various ways to help you claim your personal space. If you're craving alone time, try incorporating one of these ideas into your balcony:
Privacy screens

Tall plants

Hanging cloth

Solid fencing
If you decide on a privacy screen, Lisa Wallis from Wallis Landscape suggests customizing it to your liking with lighting and plants. "Container gardening is one of the most enjoyable ways to make a small balcony feel cozy and relaxing. They can be as attractive as they are useful, creating focal points and privacy with lush color and alluring textures."
Some apartments have a shared balcony, usually with one other unit. In these cases, the building usually has built-in privacy walls, but you can go the extra mile by using plants or additional privacy walls to separate your spaces.
7. Maximize square footage
Separating your space into different zones is a great way to maximize square footage. For tiny balconies, try hanging plants and creative storage solutions. "When you have a small apartment balcony with limited space, consider a custom-made bench seat," says Marisa Robinson from No Chintz. "Not only does it add comfort and style to your balcony, but it can double as storage space for your outdoor cushions or pillows."
Going vertical is another great way to get the most out of your space. If you have plants, stack or hang them. Need a place to sit? Try using stackable furniture pieces.
8. Pick furniture for its style and functionality
Furniture is an essential part of any small balcony space. Because of the limited space on most decks, it's important to choose multifunctional items. Consider pieces that fold, stack, nest, move, or are light to allow for the most flexibility. Here are some expert tips to help you achieve your furniture goals.
"If you're looking to move your workspace outside for part of the day, check out the Mobile DeskRiser Stand, a portable sit-to-stand desk that is perfect for small apartment balconies. With a movable standing desk, you can move your work from home office to your outdoor office in seconds." - Mike from DeskRiser
"Because of its size, you likely won't have enough room for patio chairs, a laundry drying rack, and your kid's wading pool. Cabinfield's foldable Adirondack chairs give you that extra space for summer fun." - Rachel from Cabinfield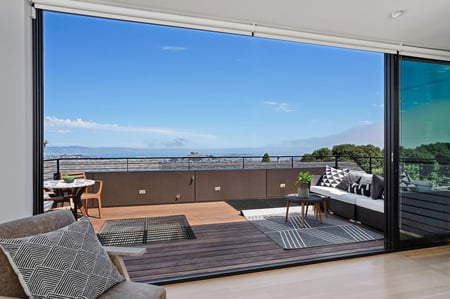 "For a charming and stylish apartment balcony, incorporate outdoor-ready, space-saving furniture. Synthetic materials are ideal for wetter climates, but natural rattan materials can work as well." - Winny from New Pacific Direct
"A great way to give your balcony an upscale feel is to add custom upholstery. Whether you want to add just a couple of throw pillows or want to completely reupholster your outdoor furniture, incorporating unique fabric choices into your decor adds a personal touch." - Ashley Harding, Owner of Vintage Refined
Some balconies are too small for any furniture. If so, put out a few plants or a bench for a brief outdoor respite.
9. Decide on your plant options
Plants are a perfect way to add depth, color, and personality to your apartment deck. You don't need a huge yard to grow a wide variety of plants – you can even try planting edible ones for delicious home-cooked meals. There are many options for your balcony garden, including hanging plants, container plants, plant beds, and pet-safe plants like cat grass. You can even use vines to camouflage your railing. A vertical garden is great for added privacy.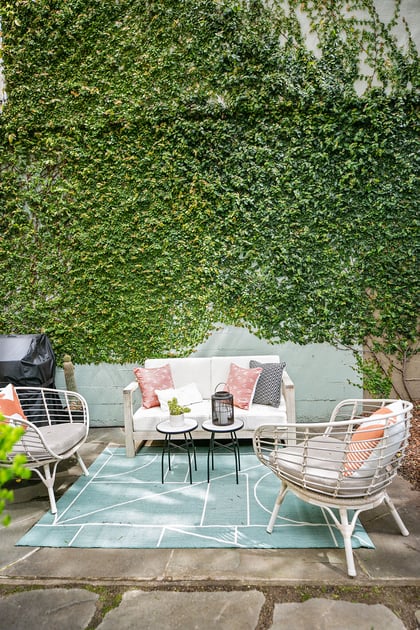 To help you decide on the best plants for your space, we asked experts for their best apartment gardening advice:
"Small flowering shrubs like butterfly bushes, roses, and hydrangeas are great options for small balconies. They bloom colorful flowers during spring or summer and can be displayed for you, your guests, or neighbors to gawk at." - Nikki Bruner from Perfect Plants Nursery
"Succulents can be a great option for a small apartment balcony, especially if you like plants but don't want something high maintenance. One genus of succulent that works well in nearly any climate is Sempervivums. These beautiful plants can handle the snow in the winter and will appreciate bright, indirect sunlight in the summer." - Cassidy from Succulents and Sunshine
"Transform your patio using artificial plants. These are especially useful if you have pets or want a realistic plant that's easy to maintain. There are tons of options, including artificial grass, shrubs, bushes, flowers, and other plants." - Jason from Feel Real Artificial Plants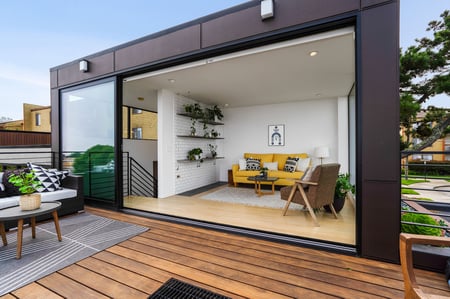 "Bring the outdoors into your home by decorating your balcony with plants. When choosing plants for your balcony, look for greenery that compliments your indoor décor." - Julie Bawden Davis from Healthy Houseplants
"To make your balcony look taller, use larger plants like the bird of paradise. Adding a mirror can also create the illusion of space while benefiting your space's feng shui." - Clara from Clara's Green House
Pro tip: take advantage of south-facing balconies
If you have a south-facing outdoor balcony, take advantage of the extra light, but be careful not to let your plants wither. Here are some tips to keep your plants thriving:
Incorporate shade for hot summer days, including trellises, privacy screens, parasols, and climbing plants

Choose a larger container, so the soil doesn't dry out too quickly.

Keep the soil in your containers as moist as possible by mulching them.

Choose terracotta pots over plastic ones because plastic heats up.
- Arifur from Garden For Indoor
10. Incorporate tasteful lighting and sounds
No balcony is complete without elegant and inviting outdoor lighting. For larger decks and budgets, install overhead lights or help camouflage the railing with string lights. "The easiest way to personalize and brighten a small balcony is to decorate with indoor/outdoor LED strip lights," says Elaine Shah from Good Earth Lighting. "Hang the strip lights along your privacy screen or wrap them around the balcony railing for maximum effect."
Parties and balconies get along well together. Make them better with an outdoor sound system. Jimmy Nay from Control Freaks Hawaii suggests using a nice speaker system for outdoor gatherings. "Whether your party calls for booming audio that fills the entire space or simple background music to add depth to your gathering, a nice speaker system can add a new dimension to your get-together. For cleaner lines, consider adding a wireless speaker to your space."
For maximum effect, tie your indoor lighting into your outdoor space, keeping the same style consistent. Use shades and plants to accent walls or to dim a bulb if it's too bright.
11. Use accessories to tie your balcony together
Your last step is sprucing up your balcony with simple, practical accessories. These can be anything from accent pillows, to an eco-friendly rain barrel system, to a simple piece of artwork.
Here are some expert tips for extra inspiration.
"If you want to make a statement, try adding some canvas print art to make your walls pop. Find the perfect painting to suit your size and space to create a wonderful conversation piece that looks good and adds to the aesthetic." - Emma Paterson from WallArt
"Introduce subtle touches of color by decorating your planters and gardening tools. Everything from your watering can to your handheld shovel can be finished with bold hues and custom designs." - John from Hand Tool Essentials
"Transform your apartment balcony into an inviting living space (and hummingbird heaven) with potted plants and a rain barrel. "There's no water that plants like better than rainwater. With rain barrels, you can conserve water and reduce bills as you beautify your balcony." - Jesse Savou, founder of BlueBarrel Rainwater Catchment Systems.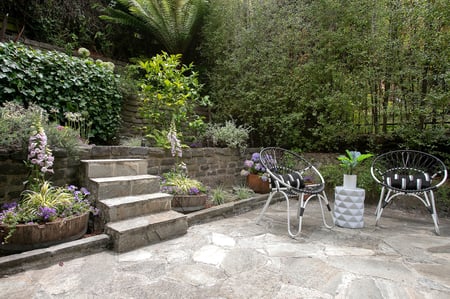 Small balcony ideas: what else is there to know?
Having a small balcony doesn't mean you have to compromise on style, functionality, or design. In fact, it can mean the opposite; less space to decorate means you have more influence over the area you have. As a bonus, you also don't have to spend as much money as you would on a large deck.
Regardless of your space, budget, or style, make your small apartment balcony your own.