On a recent trip to our teak root furniture supplier in East Java, we had the opportunity to observe and document the processes for storing and creating reclaimed teak wood furniture. Discarded Teak roots are reclaimed and recovered to create unique designs for small accessories, lamps, side tables, consoles, and coffee tables.
These raw materials are acquired through sustainable, local resources governed under the SVLK standards. In partnership with the Indonesian government and the demands from international buyers, the SVLK approach provides transparency, thus creating trust and ecological benefits for both people and the planet.
The Process of Storing Recycled Teak Roots and Teakwood
Teakwood (Tectona Grandis) is one of the sturdiest and most eco-friendly materials in the world. It is native to the Southeast Asia region and can grow up to 130 feet tall. The species is known for its strength and higher oil content, and resistance to water, termites, fungi, and other pests. Because of its high oil content, teakwood also has the highest decay-resistant characteristics when compared to other wood species. Moreover, it doesn't disintegrate when in contact with metal. These qualities make it an ideal resource for a vast variety of constructions such as boats, yachts, homes, and higher-end indoor and outdoor furniture. Teak trees between 40-80 years old provide the best wood for construction..
Sorting and Storing
In the factory, reclaimed woods are sorted by type (recycled woods, twigs, roots, blocks), thickness, and length (short, long, plank). Then, they are stacked or placed alongside one another in a well-organized storage space. Each space is given a name and sized according to its measurements and types.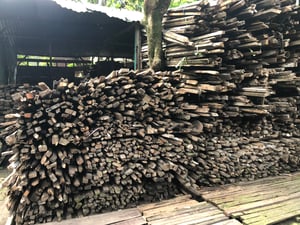 Sorted and Stored Reclaimed Wood
Quality Control Process - Determining Moisture Content
All wooden materials need to be at an acceptable Moisture Content Percentage (MCP) to meet industry standards and importantly, to prevent fungi and mold from appearing. The Moisture Content (M.C.) of the wood should be anywhere between 8 – 15% for a balanced distribution of moisture in the inner and outer layers. When the desirable range level is achieved, the result is strength and durability which makes it ideal for indoor and outdoor furnishings.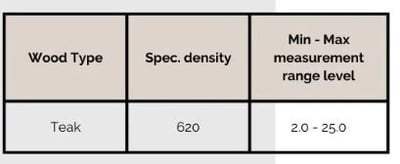 Acceptable Moisture Content Specification
For reclaimed wood, its moisture content is measured and further dried utilizing two air-drying methods:
First Step - A natural drying process where the roots or logs are lined up next to each other, letting them dry under the sun exposure. This moisture-eliminating process can take anywhere from 4 to 12 weeks, depending on the size and condition of the material. Moreover, a 20 – 30% moisture content percentage must be reached before the raw materials undergo the next step.
Second Step - The use of a heated kiln. The reclaimed materials are stacked or lined up inside a steam-heated oven to decrease moisture content. For thicker materials such as roots and blocks of timber, the acceptable range of M.C. is 15-18%. This kiln-drying process can take anywhere between 2 to 3 weeks depending on the condition and thickness of the materials.
The Process of Creating Unique Pieces
The Assembly process highlights the craftsmanship and detailing, as wood pieces are collected, assembled by size, then cut and shaped to produce the final products.
-Branches and Twigs are sorted to create a layout of the final product. *Photo 1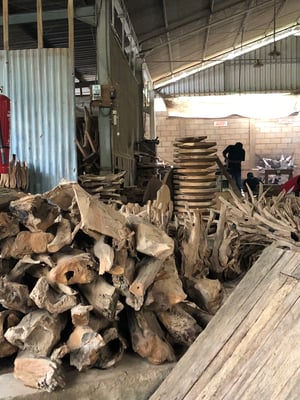 *Photo 1
- Sharp and rough textures are sanded down and polished to reveal the beauty of the wood grain and to highlight its natural uniqueness. *Photo 2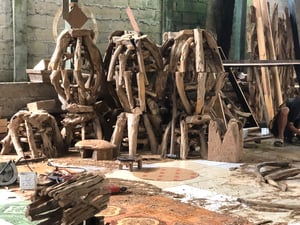 *Photo 2
-Craftsmen mold and shape the materials into a specific product's specs and frames. *Photo 3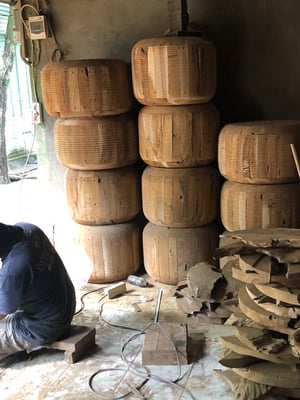 *Photo 3
-Skilled craftsman works on the raw materials by putting together separated pieces to design and create the desirable outcome. *Photo 4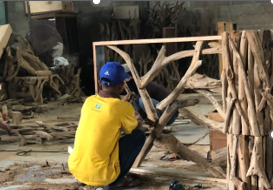 *Photo 4
-In many products, metal is utilized to make tabletops or supportive base/legs to complete the final product. As such, metal materials undergo an anti-rust coating treatment and kiln-drying process. *Photos 5-6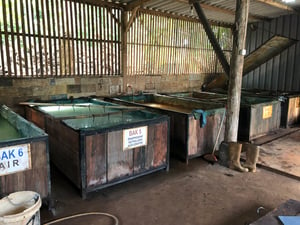 *Photo 5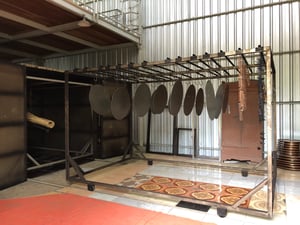 *Photo 6
-Additional sanding and polishing is performed to ensure that the product meets design and safety requirements. *Photo 7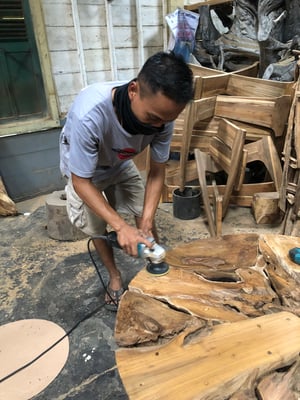 *Photo 7
-For this particular item, once the base is installed, an additional paint finish is applied utilizing a coated steel paint for a rust-proof result. The final product is complete and ready to go into QC for the final approval. *Photo 8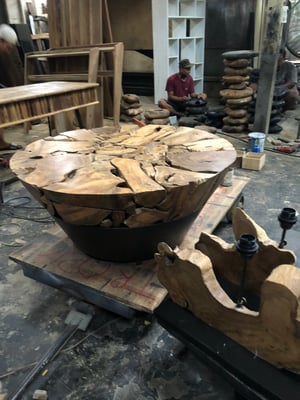 *Photo 8
Besides, the unique elements that recycled furniture offers, with proper care your teakwood furniture will last for many years to come, some say it's naturally made for the next generation. Caring for indoor teak furniture is low maintenance, the main thing you need to do is dust the piece once a week or as needed with a soft, damp cloth. For additional care, apply teak wood oil every 3 months. Also, be aware that teakwood furniture exposed to direct sunlight will change its patina from warm honey to silvery gray over time.
Check out our collections for unique craftsman pieces made of recycled materials and reclaimed wood. Go to www.newpacificdirect.com or click the buttons below.