For the spring and summer addition, we are aligning our collection to a trend that scientists coined as "neuroaesthetic". It is a scientific term describing humans' emotional and physical health as it is directly impacted by the beauty of art, nature and beautiful interiors. In 2023, NPD is inspired and energized by distinctive pieces that are memorable and will endure for many years to come.
In the latest fabric selections, we added a new color to the Olympus series, which is a new yellow hue called the Olympus Mustard. For the standard option, it's also offered in versatile Gray and Cream tones.
Additional fabrics for the new Posh Gray and Posh Ivory colors feature soft, chenille-like texture; making it an ideal upholstery for cozy chairs in monochromatic choices. Moreover, Polyurethane or Faux Leathers alternative are refreshed in burnt red hue mixed with an earthy brown tone - this combination brightens and elevates the space instantly. And to anticipate the warmer seasons, we are introducing outdoor-ready upholstery in coastal taupe and coastal blue colors.
Here's our Colors and Materials Palette this season--

The Spring/Summer collection is influenced by:
1. Soft Curves Silhouettes - new styles are illustrated by their sculptural forms. These attributes coincide with femininity and tenderness.
Within NPD, you'll find the styles embellished in textured fabric like boucle and faux shearling. Prominent in the accent and dining categories, the texture-rich boucle and soft faux leather are intermingled with modern-geometric shapes; reformatted with sharp angles and curved profiles for sculpted silhouettes.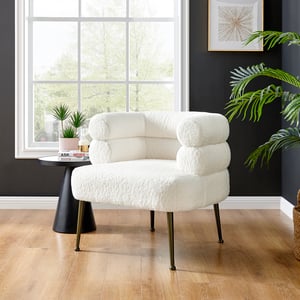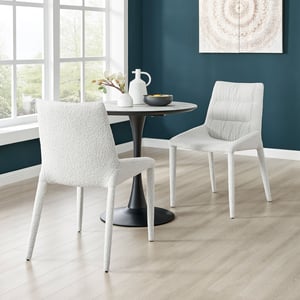 2. Eco-friendly products that are sustainable for the earth are in fashion! - Materials such as reclaimed teak wood and rattan, are always a highlight to our portfolio! The beauty of natural elements are incorporated into everyday space to create a sense of calm with nature inspired pieces.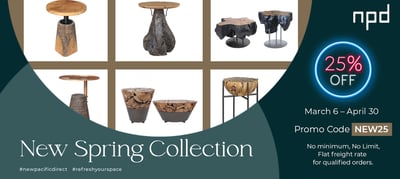 3. Outdoor Space – Post pandemic schedules for families signal the importance of going outside for fresh air and getting an instant relaxation vibe. This creates a need to refresh and redecorate patio spaces. And, for the warmer seasons, our alfresco set reflects a simple and minimalist line to uplift the patio area.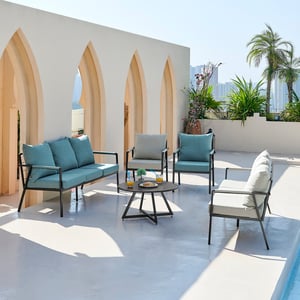 Currently, all of our new items are 25% off until April 30th. Go directly to our website or email sales@newpacificdirect.com.